How Can a Child's Airway Affect Their World
Snoring and mouth breathing may appear harmless on the surface, but often can affect so much in a growing child, from their brain development to their sleeping patterns. We at Hamilton Orthodontics can intervene early on so as to prevent complications as your child grows up. Dr. Hamilton and Dr. Manuele are airway knowledgeable orthodontists. Their expertise in early growth and jaw development combined with the in-office i-CAT FLX V17 3D technology makes it possible for them to immediately determine your child's airway volume and evaluate the development of their facial structure, jaws, teeth, and temporal mandibular joints (TMJ's).

Common abnormalities and their warning signs: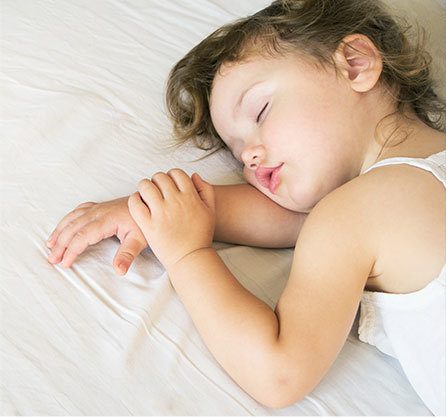 Nasal and jaw formation abnormalities:
Chronic allergies, runny nose, or ear infections
Dental crossbite or crowding
Resting or eating with open mouth
Tongue ties:
Difficulty pronouncing "s" and "r"
History of difficult breastfeeding
Diffifculty placing tongue to roof of mouth
Obstructed airway:
Snoring
Breathing pauses
Teeth grinding
Restlessness
Attention issues
If your child is manifesting one or more of the above symptoms, we recommend an orthodontic airway evaluation as early as age 4
. Why have an evaluation so early by an airway knowledgeable orthodontist? The majority of the development of the jaws and the lower portion of the face occurs before age 6. If this development is hindered, the developing airway is often deficient. Preventative or early orthodontic treatment options will improve deficient jaw structures and encourage more normal development of the face, jaws, temporal mandibular joints (TMJ's), and airway. Another important side benefit of these treatments is improved breathing which can also improve sleep; where this is left untreated, the continuation of a breathing disorders in very young patients leads to a worsening of the craniofacial growth pattern year by year.
We invite you to call or text Hamilton & Manuele Orthodontics today at 702-243-3300 to schedule a complimentary airway and orthodontic assessment and learn more about airway development in Las Vegas, Nevada.
Does your child need a complimentary orthodontic airway assessment?
On analysis, your child could definitely benefit from our complimentary orthodontic airway assessment. We suggest scheduling an appointment for that here:
There doesn't seem to be too much concern regarding your child's airway, which is amazing news! Be vigilant about all the symptoms above and take the questionnaire again if you are concerned.