In-Ovation® Self-Ligating Brackets in Las Vegas, NV
Hamilton & Manuele Orthodontics is pleased to use the In-Ovation® bracket system, an advanced orthodontic system designed to make your treatment even faster! Self-ligating brackets straighten teeth without the use of colored elastic ties that traditional metal braces need, instead using metal clips to hold the archwire in place.
In-Ovation is a new, technologically advanced system of self-ligating brackets that helps patients achieve beautiful, radiant new smiles. Because no two orthodontic cases are the same, In-Ovation offers two different bracket styles to help you find the one that is most appealing and comfortable for your smile: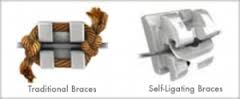 In-Ovation R offers a smaller and lower-profile bracket than most self-ligating brackets. Because it uses no elastics or metal ties, you can avoid irritation, plaque buildup, and difficulty caring for your teeth.
In-Ovation C (Clear Braces) is a translucent ceramic bracket that offers the quick, comfortable treatment you want without compromising the aesthetic appeal of your smile.
Because In-Ovation is an advanced system, it can greatly reduce the amount of time you spend in the orthodontist's chair, as well as the number of visits you need to make for adjustments. This style of self-ligating brackets is designed to provide faster results and greater comfort than traditional braces.
We invite you to call our office at 702-243-3300 today so that we can help you determine if In-Ovation self-ligating brackets are the right choice for you. Dr. Hamilton, Dr. Manuele, and our team look forward to helping you achieve a radiant smile!