What are Clear Braces?
Clear braces are made with a tooth-colored ceramic material to blend in with your smile and deliver a less noticeable orthodontic treatment option. Clear braces are an alternative to traditional metal brackets, using the same method as traditional metal braces to straighten teeth.
Dr. Hamilton's and Dr. Manuele's expertise and advanced in house technology have dramatically decreased the time their patients are in braces, especially compared to the national average. Our innovative approach is quick and comfortable for patients and more convenient for patients with busy schedules as it requires fewer appointments.
Braces are used to correct a variety of problems, including:
Crowded and crooked teeth
Gapped and spaced teeth
Misaligned teeth
Bite problems (crossbites, open bites, underbites, overbites, etc.)
What are Clear Aligners?
If you're looking for a clear braces option without brackets, HM Ortho aligners may be for you. These aligners are a set of custom-fitted removable trays made with a pliable material that fits snuggly to your teeth. Each new set of HM Ortho aligners applies a slight adjustment over time. Since they're removable, you can take them out while eating, drinking, brushing and flossing, so you can easily maintain good oral health habits. You can also remove them for special occasions.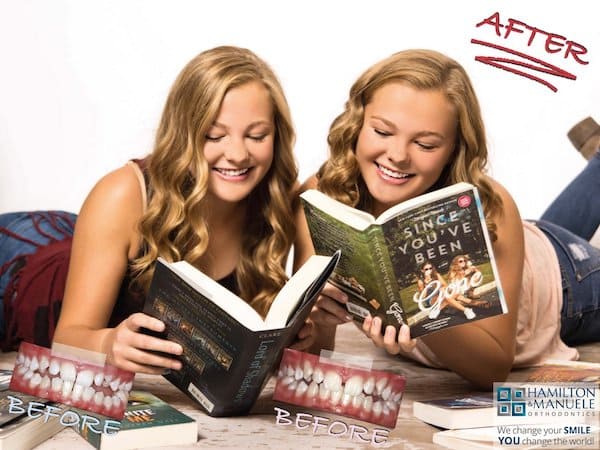 Actual patients treated by Hamilton & Manuele Orthodontics
Schedule Your Appointment
We invite you to call or text Hamilton & Manuele Orthodontics today at 702-243-3300 or schedule an appointment below to learn more about our brace option.
"*" indicates required fields