Lifetime Smile Protection
At our practice, we view retainers as a lifelong commitment. Our motto, "Nighttime For A Lifetime," reflects our belief that most patients should wear their aligners every night to maintain their beautiful smile. To ensure our patients' continued satisfaction, we offer a Lifetime Smile Protection to those who have completed comprehensive treatment with our office. This program provides two sets of retainer and models at the end of treatment, and in the event that a retainer is lost or damaged, we can quickly replace it for a nominal fee by using the original models. Our goal is to help our patients maintain their confident smile for years to come.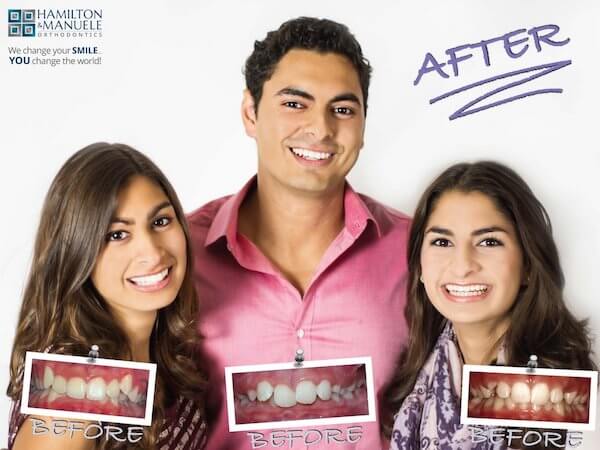 Actual patients treated by Hamilton & Manuele Orthodontics
Schedule Your Appointment
Questions about your retainer or our Hamilton & Manuele Orthodontics Lifetime SmileProtection program? We are here for you. Call or text a team member at (702) 243-3300 or schedule your appointment below.
Frequently Asked Questions
Why Is It Important To Wear My Retainer?
After you complete your course of orthodontic care with Invisalign, traditional braces, or other treatment, your teeth are still vulnerable to orthodontic relapse. Especially in the period of time directly after orthodontic therapy, your teeth can move out of the perfect alignment you've worked hard to achieve.
Retainers help prevent orthodontic relapse, preserving your aligned smile and helping secure your teeth in place. Don't let the time and money you've spent aligning your smile go to waste, wear your retainer and visit your dentist for checkups at regular intervals!
WHAT CAN I DO ABOUT DISCOMFORT WHEN WEARING MY RETAINER?
When you first get your retainer, you may find it uncomfortable to wear or difficult to speak with. In most cases, discomfort will subside with regular use and your mouth will adapt to speaking clearly while protecting the alignment of your teeth.
If you believe that your retainer isn't fitting correctly or is painful to wear for long periods of time, contact Dr. Hamilton for an appointment. He'll adjust your retainer for a more comfortable fit to help you maintain consistent habits.
HOW CAN I KEEP MY RETAINER SANITARY?
Without proper hygiene habits, plaque can build up on retainers just like it does on teeth. Use a toothbrush to brush your retainer clean, preferably with a non-whitening toothpaste. Mouthwash or denture cleansers can be used to soak and sanitize your retainer. When you're on the go, rinsing your retainer with water can prevent it from drying out and becoming brittle.
By taking care of your retainer with regular cleanings, you'll protect it for lasting benefits and prevent risks from accumulated bacteria during use.
HOW LONG WILL I HAVE TO WEAR MY RETAINER?
Don't discontinue use of your retainer without consulting Dr. Hamilton. For some patients, retainer use is only required for a period of months or years. However, many patients will receive benefits and prevent orthodontic relapse by maintaining continuous use of their retainer, especially during the night.
As you age, your teeth will continue to shift and can move out of alignment without maintenance. A retainer can preserve your aligned smile for many years — you'll thank yourself for continuing responsible care by keeping your retainer a part of your nightly oral health routine.
"*" indicates required fields