Patient Rewards
At Hamilton & Manuele Orthodontics, we love to see you smile! We have created our World Changer Rewards Program to celebrate all the awesome things you do. You can earn reward points for being a world changer: participating in community service, being a good student or a caring community member, and more! You can also earn points for being a great patient: seeing your dentist for regular cleaning appointments, taking care of your orthodontic appliances, keeping your scheduled appointments, and much more! Your World Changer Rewards points will earn you gift cards to your favorite retail stores, or you can donate your points to your favorite charity, school, or community organization; it is up to you. This is just our way of saying thank you for being a World Changer every day!
Patient Rewards Login: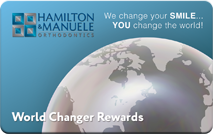 Simply log in now (https://hmortho.patientrewardshub.com/) to discover all the benefits of your rewards card, including games, contests, point redemption and more! Please feel free to contact our office today to learn more and schedule your visit with our dentists in Las Vegas, Nevada.