Why Two Phases Of Orthodontic Treatment?
Timing is everything – even regarding your child's orthodontic treatment. Our team at Hamilton & Manuele Orthodontics understands that treatment during specific stages of development can give your child the best opportunity to thrive while preventing permanent teeth removal later in life or the need for corrective surgery to realign the jaws. Planning now can save your child's smile later.
Phase One Orthodontic Treatment
Our primary objective of Phase One treatment is to facilitate the proper development of the jaw, ensuring that all permanent teeth have sufficient space and that the upper and lower jaws fit together seamlessly. By identifying and addressing any jaw discrepancies at a young age, we can frequently circumvent the need for more extensive and invasive treatment in the future.
Resting Period
After completing Phase One orthodontic treatment, your child will enter into what we call a resting period.
During this time, Dr. Hamilton and Dr. Manuele will closely monitor your child's growth and the eruption of
any remaining permanent teeth to determine the ideal timing for Phase II treatment.
Phase Two Orthodontic Treatment
During the second phase of treatment, we focus on getting each tooth in its proper position and all aligned
properly, so your child will have a smile they're proud to show off. This phase often includes braces or clear
aligners.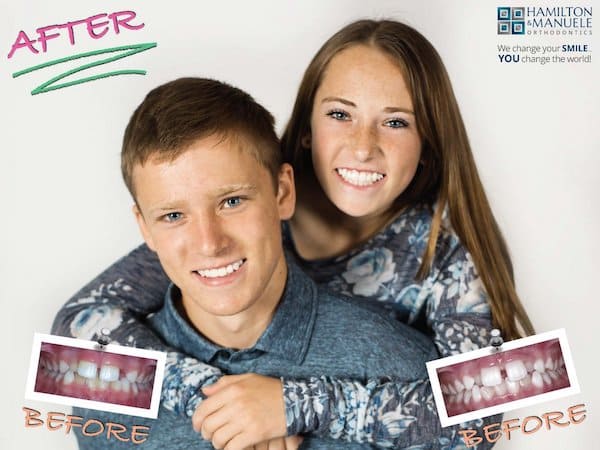 Actual patient treated by Hamilton & Manuele Orthodontics
Schedule Your Appointment
We invite you to call or visit our office to learn if a Two-Phase Orthodontic treatment approach would benefit your child. Call or text 702-243-3300, or click the button below to reserve a complimentary orthodontic assessment today.
"*" indicates required fields