Invisalign® in Las Vegas, NV
Straighten Your Smile at Hamilton & Manuele
At Hamilton & Manuele Orthodontics, our orthodontists and team are dedicated to ensuring that your orthodontic-induced social anxiety does not prevent you from achieving your goals and dream, which is why we offer Invisalign® clear aligners.
An alternative to traditional metal braces, Invisalign is a revolutionary treatment that utilizes a series of clear aligners. They become virtually invisible against your smile and remain hidden from the public eye. Explore our guide to learn how this innovative orthodontic treatment can allow you to eat without restrictions and smile with confidence.
Virtually Invisible Clear Aligners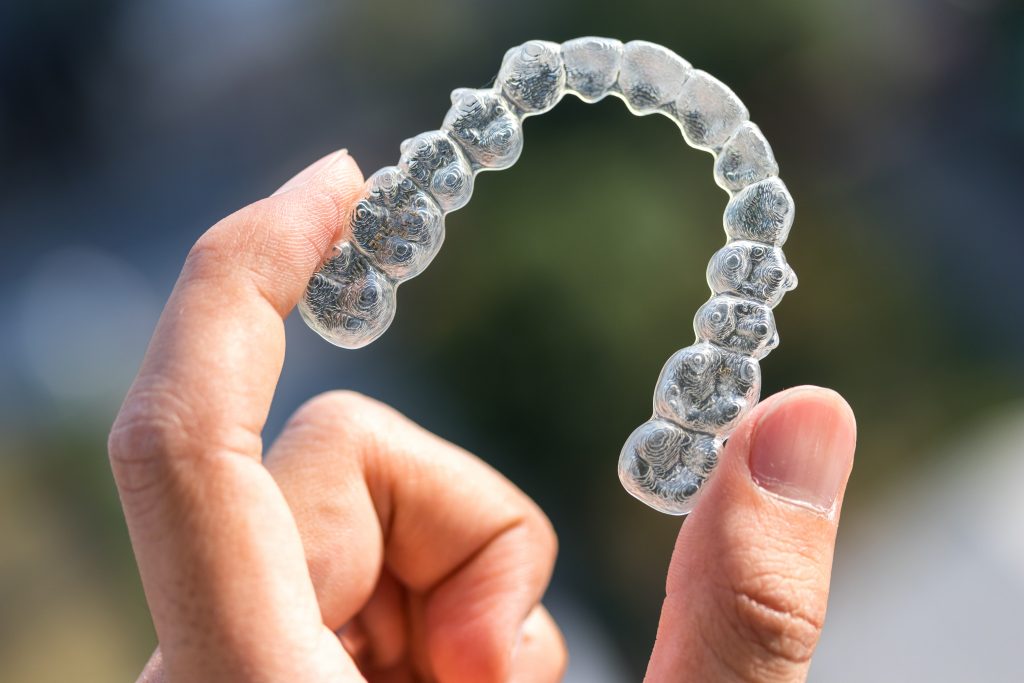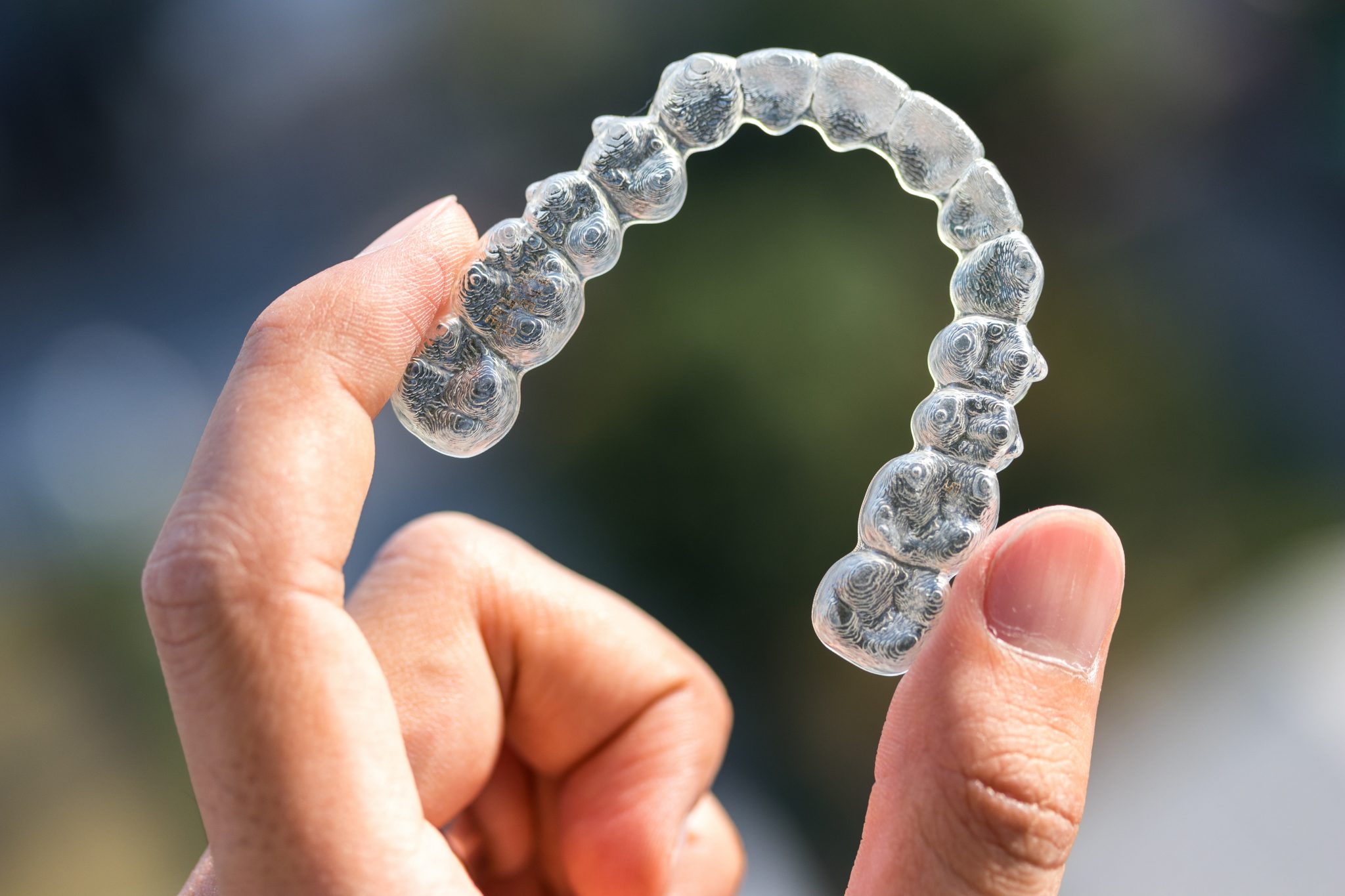 The plastic aligners are created through high-quality 3D computer imaging technology that has a long-standing reputation for its efficiency and accuracy in resolving a variety of orthodontic issues. Whether your teeth are crooked, gapped, crowded, or you have a misaligned bite, Invisalign can straighten your smile and adjust your bite to perfection.
At Hamilton & Manuele Orthodontics, we assure you that the straight, beautiful smile you want may be only a few clear aligners away. In addition to being Invisalign providers, Dr. Hamilton and Dr. Manuele have met the requirements needed to achieve the status of Elite Provider, which means they have completed more than 300 cases, with a minimum of 50 cases every six months.
Benefits of Invisalign Treatment
With Invisalign, Drs. Hamilton and Manuele can help straighten your teeth up to two times faster than traditional metal braces. There are many advantages to choosing Invisalign, such as:
Completely removable

⎼ They don't require metal braces or wires, allowing you to eat and drink without restrictions.

Easy to maintain

⎼ Since they're removable, you'll be able to brush and floss easier than if you were wearing traditional braces.

Practically invisible

⎼ Clear aligners make them nearly invisible, so nobody will notice you're wearing them.

Faster treatment time

⎼ Invisalign doesn't require metal braces or wires, meaning

less time spent getting adjustments.

Increased comfort

⎼ The thin, flexible material of the aligners are customizable for maximum comfort and convenience.
Getting Your Invisalign Aligners
Your Initial Consultation

⎼ First, you'll meet with one of our Invisalign providers, Dr. Hamilton or Dr. Manuele, at our Las Vegas, NV dental office. During this visit, we'll discuss your smile goals and answer any questions you may have about the Invisalign process. We'll use 3D computer imaging technology to create a custom set of aligners to match the shape of your unique bite.

Receiving Your First Aligners

⎼ The Invisalign system allows you to view your treatment plan before you start, so you can see how your teeth will look after the process is complete. After getting your first pair of clear aligners, you'll receive a new set every two weeks until your treatment is complete. Invisalign works by gradually shifting your teeth into correct alignment, all you need to do is wear them for 20 to 22 hours per day.

Embrace Your New, Beautiful Smile⎼ Invisalign treatment can take anywhere from 12 to 18 months depending on the severity of your orthodontic condition. However, many patients report seeing noticeable results in as little as a few weeks. You'll return to our office in Las Vegas, NV every six to eight weeks so we can monitor your progress and make adjustments as needed.
Visit Hamilton & Manuele Orthodontics Today
If you are interested in receiving Invisalign in Las Vegas, Nevada, or if you would like to learn more about the treatment process, please feel free to contact us today to schedule an appointment with our orthodontists. Drs. Hamilton and Manuele are dedicated to working with you in order to find the dental alignment solution that best meets your needs.
Simply give us a call at (702) 243-3300 or fill out a convenient contact form online. We are thrilled to help you create a unique, attractive smile that you will be proud to show.
━━━━━━━━━━━━━━━━━━━━━━━━━━━━━━━━━━━
Frequently Asked Questions
What can Invisalign help with?
Invisalign is used to treat a variety of orthodontic issues that can impact your health, as well as your smile. During your consultation, one of our Invisalign providers will thoroughly examine your teeth and determine if Invisalign will be an effective treatment for you.
Typically, we use Invisalign to correct the following orthodontic issues:
Crowded teeth

Crooked teeth

Gaps between teeth

Crossbite

Underbite

Overbite

Open bite
Does Invisalign hurt?
Since they're customized to fit your teeth, Invisalign aligners are far more comfortable to wear than traditional braces. You also won't have to worry about painful bracket adjustments or metal wires poking your teeth and gums. You may experience some mild discomfort when you start wearing your first set of aligners, but this should fade within a few days as your mouth adjusts to them.
Will insurance pay for Invisalign?
With most insurance providers, you'll get the same coverage for Invisalign that you would for braces. Typically, this means at least a portion of your treatment will be covered, depending on the terms of your specific plan. At Hamilton & Manuele Orthodontics, we accept most insurance policies and offer flexible financing options to help keep dental care within your reach.
If you have any questions about your payment and financing options, our Las Vegas dental team will be happy to explain your insurance and help you maximize your benefits.
How do I maintain my aligners?
Invisalign aligners are much easier to keep clean than metal braces. All you need to do is brush your aligners every morning when you wake up and every night before you go to bed. To prevent damaging your aligners, our experienced Invisalign providers recommend using a soft-bristled toothbrush and avoid abrasive cleaning solutions.
It's also crucial that you remember to take out your aligners before meals and brush your teeth before putting them back in. This will prevent food crumbs and bacteria from getting trapped in your teeth and causing an infection.
Can I remove my braces and get Invisalign?
In most cases, yes! Many patients who are tired of the hassles that come with metal braces ask us if they can switch to Invisalign. The only way to find out is by scheduling a consultation at our Las Vegas, NV practice. During this visit, one of our experienced Invisalign providers will examine your teeth and determine if Invisalign will be an effective treatment for you.